3.5" SATA Hard Drives
Dell PowerEdge 1950 Replacement Spare Hard Drives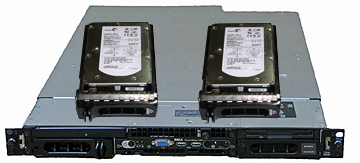 Extend the life of your Dell PowerEdge 1950 server by purchasing quality refurbished hard drives and trays from Flagship Technologies.
The PowerEdge 1950 server holds up to two (2) 3.5" hot-swap SATA hard drives featuring 7200 RPM rotation speeds. We offer capacities ranging from 80GB up to 2TB. The architecture supports 3Gb/s RAID 0, 1 or non-RAID configurations and newer 6Gb/s hard drives are backwards compatible with this model.
If you are looking to purchase replacement or spare drives for an existing RAID configuration, drives of identical capacity and speed are usually compatible and interchangeable regardless of part number.
Need help finding your drive's part number? See our page on Locating Your Dell Part Number.

Unless otherwise noted, all hard drives are genuine Dell OEM, tested and pulled from working machines. Each is shipped mounted in a tray for the Dell PowerEdge 1950 server. Hard drives are wiped of all previous data and are backed by our 90-day parts replacement warranty.