Hard Drives & Trays
Dell PowerEdge R510 Hard Drives & Trays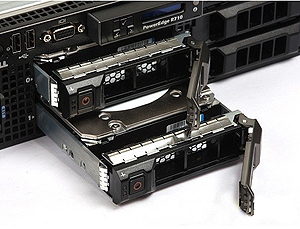 The Dell PowerEdge R510 server has three (3) different chassis styles. One chassis will accommodate up to four (4) 3.5" SAS or SATA hard drives cabled to the controller. There is also a hot-swappable chassis that will hold up to eight (8) 3.5" SAS, SATA or solid-state (SSD) hard drives. Finally, the 12-bay chassis will not only hold up to twelve (12) 3.5" hot-swap hard drives, it will also hold up to two (2) additional 2.5" hard drives internally which are cabled to the controller. While SSD drives are usually fastest, SAS drives are generally more economical and quicker than SATA drives which tend to trade some performance for higher capacity.

The PowerEdge R510 is designed to take advantage of newer 6Gbps hard drives when an PERC H700 controller is installed. However, it is also backwards-compatible with older 3Gbps hard drives.
Dell OEM hard drives contain specific firmware created by Dell to optimize performance on Dell systems.
All 3.5" hard drives below are shipped mounted in trays for the PowerEdge R510. 2.5" hard drives also ship standard with trays, however, the trays can be removed for installation into the PowerEdge R510. Unless otherwise noted, all hard drives have been pulled from working servers and carry our 90-day parts replacement warranty.
Only healthy disks are approved for resale to our customers. All used/refurbished hard drives are cleaned, fully tested and vetted for surface defects and wear. Hard drives are formatted and wiped of any previous data via the latest DOD standards. We do NOT disassemble, modify or replace individual hard drive components as part of our refurbishing process.
Be sure to choose the correct size, capacity and speed for your machine.
Dell PowerEdge R510 Hard Drive

Categories
Select a product category above to find computer servers, data storage, networking equipment, spare parts and upgrades.
Compare Selected