Memory (RAM)
Dell PowerEdge R510 Memory (RAM)
---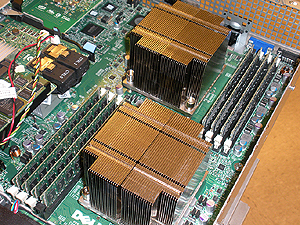 The Dell PowerEdge R510 server has a myriad of memory options available for upgrades. The system supports up to 128GB of RAM using DDR3 registered DIMMs (RDIMMs) or 16GB when using unbuffered ECC DIMMs (UDIMMs). Single and dual-rank DIMMs can be 1067 MHz or 1333 MHz and quad-rank (4R) DIMMs can be 1067 MHz. RDIMMS and UDIMMS cannot be combined in the same server.

The system contains four (4) memory sockets for each processor for a total of eight (8) sockets. Each four-socket set is organized into three channels; two (2) DIMMs for channel 0 and a single DIMM for channel 1 and 2. The first socket of each channel is marked with white release levers.
For assistance with upgrade options and help with installation, please see Dell's PowerEdge R510 Hardware Owner's Manual.
Unless otherwise noted, memory DIMMs below are sold per stick and are refurbished, tested in working machines and backed by our 90-day parts replacement warranty.

Dell PowerEdge R510 Memory DIMMS

Dell Part Number

(SKU)

Capacity

(per DIMM)

Type

Rank

Speed

Voltage

Registered ECC (RDIMMS)

PC3-10600R

MGY5T

16GB

PC3L-10600R

2Rx4

1333 MHz

1.35V

2HF92

8GB

PC3-10600R

2Rx4

1333 MHz

1.5V

X3R5M
P9RN2

8GB

PC3L-10600R

2Rx4

1333 MHz

1.35V

TJ1DY
NN876

4GB

PC3-10600R

2Rx4

1333 MHz

1.5V

7H18C

4GB

PC3-10600R

2Rx8

1333 MHz

1.5V

C1KCN
9J5WF

4GB

PC3L-10600R

2Rx8

1333 MHz

1.35V

H5DDH
D1TMC

4GB

PC3L-10600R

2Rx4

1333 MHz

1.35V

MFTJT

4GB

PC3L-10600R

1Rx4

1333 MHz

1.35V

DP143

2GB

PC3-10600R

2Rx8

1333 MHz

1.5V

093VH

2GB

PC3-10600R

1Rx8

1333 MHz

1.5V

MVPT4

2GB

PC3L-10600R

1Rx8

1333 MHz

1.35V

6J6DX

2GB

PC3L-10600R

2Rx8

1333 MHz

1.35V

JU509

1GB

PC3-10600R

1Rx8

1333 MHz

1.5V

H339D
9XY4G

1GB

PC3L-10600R

1Rx8

1333 MHz

1.35V

PC3-8500R
Y898N

16GB

PC3-8500R

4Rx4

1066 MHz

1.5V

GRFJC

16GB

PC3L-8500R

4Rx4

1066 MHz

1.35V

H132M

8GB

PC3-8500R

2Rx4

1066 MHz

1.5V

CXPTG

8GB

PC3L-8500R

2Rx4

1066 MHz

1.35V

H959F

4GB

PC3-8500R

4Rx8

1066 MHz

1.5V

C59WN

G484D

4GB

PC3-8500R

2Rx4

1066 MHz

1.5V

54TTW

4GB

PC3L-8500R

2Rx4

1066 MHz

1.35V

D841D

2GB

PC3-8500R

2Rx8

1066 MHz

1.5V

W5DNM

1GB

PC3L-8500R

1Rx8

1066 MHz

1.35V

Unbuffered ECC (UDIMMS)
PC3-10600E
H92NK

2GB

PC3-10600E

1Rx8

1333 MHz

1.5V

PT4JW
J160C

2GB

PC3-10600E

2Rx8

1333 MHz

1.5V

DM0KY

2GB

PC3L-10600E

1Rx8

1333 MHz

1.35V

F8K1R

2GB

PC3L-10600E

2Rx8

1333 MHz

1.35V

H275C

1GB

PC3-10600E

1Rx8

1333 MHz

1.5V

FDFM2

1GB

PC3L-10600E

1Rx8

1333 MHz

1.35V

PC3-8500E
F626D

2GB

PC3-8500E

2Rx8

1066 MHz

1.5V

FPCJX

2GB

PC3L-8500E

2Rx8

1066 MHz

1.35V

W9DD2
G481D

1GB

PC3-8500E

1Rx8

1066 MHz

1.5V

F90XF

1GB

PC3L-8500E

1Rx8

1066 MHz

1.35V