Processors (CPUs) & Heatsinks
Dell PowerEdge M910 CPU Processors & Heatsinks
---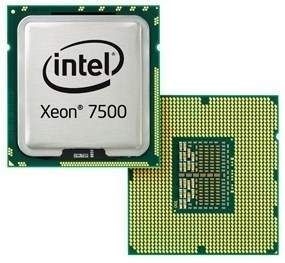 The Intel Xeon 7500 processor series and the Intel Xeon E7-4800 and E7-8800 product families are designed specifically for high-end server applications. With up to four (4) identical CPUs per PowerEdge M910, these processors feature up to ten-core processing to maximize performance and energy efficency for data center infrastructures and highly dense deployments. These processors also feature Intel Core micro-architecture and Intel 64 architecture for flexibility in 64-bit and 32-bit applications and operating systems.
Selective processors in the Intel Xeon 7500 processor series and Intel Xeon E7-4800 and E7-8800 product family also support Turbo Mode. Turbo Mode is an OS-controlled operation that automatically allows the processor to run faster than the marked frequency if the processor is operating below power, temperature, and current limits.
Prior to adding or upgrading processors, Dell recommends updating the system BIOS, the CPLD and the iDRAC firmware.
Unless otherwise noted, processors below have been tested and removed from working PowerEdge R910 servers and are backed by our 90-day parts replacement warranty.
Intel Xeon 7500 Series Processors (Beckton)
Model
number
Intel sSpec
number

Frequency

(GHz)

Turbo

Cores

L2
cache

(per core)

L3
cache

(QPI)

TDP

Quad Core

Xeon E7520

1.87 GHz

No

4

256 KB

18 MB

4.8 GT/s

105 W

Six Core

Xeon E7530

1.87 GHz

Yes

6

256 KB

12 MB

5.86 GT/s

105 W

Xeon E7540

SLBRG

2.00 GHz

Yes

6

256 KB

18 MB

6.4 GT/s

105 W

Xeon X7542

SLBRM

2.67 GHz

Yes

6

256 KB

18 MB

5.86 GT/s

130 W

Six Core, low power

Xeon L7545

1.87 GHz

Yes

6

256 KB

18 MB

5.86 GT/s

95 W

Eight Core

Xeon X7550

2.00 GHz

Yes

8

256 KB

18 MB

6.4 GT/s

130 W

Xeon X7560

2.27 GHz

Yes

8

256 KB

24 MB

6.4 GT/s

130 W

Eight Core, low power

Xeon L7555

1.87 GHz

Yes

8

256 KB

24 MB

5.86 GT/s

95 W
Intel Xeon E7-4800 Series Processors (Westmere-EX)
Model
number
Intel sSpec
number

Frequency

(GHz)

Turbo

Cores

L2
cache

(per core)

L3
cache

(QPI)

TDP

Six Core

Xeon E7-4807

1.87 GHz

No

6

256 KB

18 MB

4.8 GT/s

95 W

Eight Core

Xeon E7-48

20

2.00 GHz

Yes

8

256 KB

18 MB

5.86 GT/s

105 W

Xeon E7-4830

SLT3Q

2.13 GHz

Yes

8

256 KB

24 MB

6.4 GT/s

105 W

Ten Core

Xeon E7-4850

SLC3V

2.00 GHz

Yes

10

256 KB

24 MB

6.4 GT/s

130 W

Xeon E7-4860

2.27 GHz

Yes

10

256 KB

24 MB

6.4 GT/s

130 W

Xeon E7-4870

2.40 GHz

Yes

10

256 KB

30 MB

6.4 GT/s

130 W
Intel Xeon E7-8800 Series Processors (Westmere-EX)
Model
number
Intel sSpec
number

Frequency

(GHz)

Turbo

Cores

L2
cache

(per core)

L3
cache

(QPI)

TDP

Eight Core

Xeon E7-8837

2.66

GHz

Yes

8

256 KB

24 MB

6.4 GT/s

130 W

Ten Core, low power

Xeon E7-

8867L

2.13 GHz

Yes

10

256 KB

30 MB

6.4

GT/s

105 W