Hard Drives & Trays
Dell PowerEdge T310 Hard Drives & Trays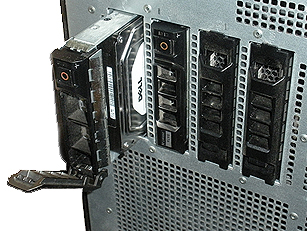 The Dell PowerEdge T310 tower server will take a maximum of four (4) 3.5" or 2.5" hard drives. The hot-swap chassis will support hard drives in 3.5" trays installed into the front of the system. 2.5" hard drives can also be used in the hot-swap chassis when mounted in 2.5" to 3.5" adapter trays. Alternatively, the Poweredge T310 also has a cabled chassis that allows up to four (4) hard drives to be connected directly to the system board.
SAS (Serial Attached SCSI) or SATA hard drives are available in either form factor. While SAS drives are usually faster, SATA drives tend to be more economical as they trade some performance for higher capacity.

The PowerEdge T310 is designed to take advantage of newer 6Gbps hard drives when a PERC H700 controller is used, however, it is also backwards-compatible with the older 3Gbps standard.
Unless otherwise noted, all hard drives are genuine, Dell OEM factory original drives that have been tested, certified and removed from working PowerEdge servers and include our 90-day parts replacement warranty.
Only healthy disks are approved for resale to our customers. All used/refurbished hard drives are cleaned, fully tested and vetted for surface defects and wear. Hard drives are formatted and wiped of any previous data via the latest DOD standards. We do NOT disassemble, modify or replace individual hard drive components as part of our refurbishing process.
Hard drives below will come shipped in trays for the PowerEdge T310 server. Be sure to choose the correct size, capacity and speed for your machine.