Intel Xeon 5000/5100 Dual-Core CPUs
Dell PowerEdge 1955 Intel Xeon 5000/5100 Processors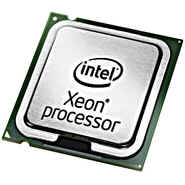 Released in mid to late 2006, the Intel Xeon dual-core 5000 and 5100 series processors (code named Dempsey and Woodcrest, respectively) are designed for high-performance dual-processor server and workstation applications. Based on the Intel NetBurst microarchitecture and Hyper-Threading Technology (HT Technology), they are scalable to two processors, providing exceptional performance for applications running on advanced operating systems such as Windows XP, Windows Server 2003, Linux, and UNIX.
The dual-core Intel Xeon 5000 and 5100 series also include Hyper-Threading Technology (HT Technology) resulting in four logical processors per processor. This feature allows multi-threaded applications to execute more than one thread per physical processor core, increasing the throughput of applications and enabling improved scaling for server and workstation workloads.
The Dell PowerEdge 1955 blade server will take up to two (2) processors. When adding a second processor to an existing server, the Intel sSpec number must match the first CPU.

Unless otherwise noted, processors have been tested and removed from working servers and are backed by our 90-day parts replacement warranty. Heatsinks are sold separately.

Click a processor below for more information, availability and pricing.
Intel Xeon 5000 Series Processors (Dempsey)
Model
number
Intel sSpec
number

Frequency

(GHz)

L2
cache

(per core)

Front Side Bus (FSB)

Voltage

TDP

Dual Core

Xeon 5020

2.5 GHz

2 x 2MB

667 MHz

1.075–1.35 V

95 W

Xeon 5030

2.67 GHz

2 x 2MB

667 MHz

1.075–1.35 V

95 W

Xeon 5040

2.83 GHz

2 x 2MB

667 MHz

1.075–1.35 V

95 W

Xeon 5050

3.0 GHz

2 x 2MB

667 MHz

1.075–1.35 V

95 W

Xeon 5060

3.2 GHz

2 x 2MB

1066 MHz

1.075–1.35 V

130 W

Xeon 5070

3.46 GHz

2 x 2MB

1066 MHz

1.075–1.35 V

130 W

Xeon 5080

3.73 GHz

2 x 2MB

1066 MHz

1.075–1.35 V

130 W

Dual Core, medium power

Xeon X5063

3.2 GHz

2 x 2MB

1066 MHz

1.075–1.35 V

95 W
Intel Xeon 5100 Series Processors (Woodcrest)
Model
number
Intel sSpec
number

Frequency

(GHz)

L2
cache

Front Side Bus (FSB)

Voltage

TDP

Dual Core

Xeon 5110

1.6 GHz

4MB

1066 MHz

1.0–1.5 V

65 W

SLABR
SLAGE

Xeon 5120

1.87 GHz

4MB

1066 MHz

1.0–1.5 V

65 W

SLABQ
SLAGD

Xeon 5130

2.0 GHz

4MB

1333 MHz

1.0–1.5 V

65 W

SLABP
SLAGC

Xeon 5140

2.33 GHz

4MB

1333 MHz

1.0–1.5 V

65 W

SLABN
SLAGB

Xeon 5150

2.67 GHz

4MB

1333 MHz

1.0–1.5 V

65 W

SLABM
SLAGA

Xeon 5160

3.0 GHz

4MB

1333 MHz

1.0–1.5 V

80 W

SLABS
SLAG9
Dual Core, low voltage


Xeon LV 5113

SLAG7

1.6 GHz

4MB

800 MHz

1.0–1.5 V

40 W

Xeon LV 5128

SL9XA

1.87 GHz

4MB

1066 MHz

1.0–1.5 V

40 W

SLAG6

Xeon LV 5133

SLABJ

2.2 GHz

4MB

800 MHz

1.0–1.5 V

40 W

SLAG5

Xeon LV 5138

SL9RN

2.13 GHz

4MB

1066 MHz

1.0–1.5 V

35 W

SLAG3

Xeon LV 5148

2.33 GHz

4MB

1333 MHz

1.0–1.5 V

40 W

SLABH
SLAG4