Intel Xeon 5300 Quad-Core CPUs
Dell PowerEdge 1955 II Intel Xeon 5300 Processors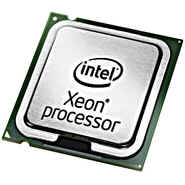 Released in late 2006, the Intel Xeon quad-core 5300 series CPUs (code named Clovertown) are 64-bit server/workstation processors utilizing four Intel Core microarchitecture cores. These processors are based on Intel's 65 nanometer process technology combining high performance with the power efficiencies of low-power Intel Core microarchitecture cores. The Intel Xeon 5300 series quad-core processors consist of two die, each containing two processor cores.
The Intel Xeon quad-core 5300 processor series integrates virtualization hardware support with Intel Virtualization Technology, which enables more effi- cient virtualization solutions and greater capabilities including 64-bit guest operating system support.
The Dell PowerEdge 1955 blade servers will take up to two (2) processors. When adding a second processor to an existing server, the Intel sSpec number must match the first CPU. If the inside of the blade handle on your machine is labeled with a "II," your system is upgradeable, with some restrictions, to the quad-core Intel Xeon 5300 series. These CPUs will NOT work in the first generation of PowerEdge 1955s.

Unless otherwise noted, processors have been tested and removed from working servers and are backed by our 90-day parts replacement warranty. Heatsinks are sold separately.

Click a processor below for more information, availability and pricing.
Intel Xeon 5300 Series Processors (Clovertown)
Model
number
Intel sSpec
number

Frequency

(GHz)

L2
cache

(per core)

Front Side Bus (FSB)

Voltage

TDP

Quad Core

Xeon E5310

1.6 GHz

2 × 4 MB

1066 MHz

1.0–1.5 V

80 W

SLACB
SLAEM

Xeon E5320

1.87 GHz

2 × 4 MB

1066 MHz

1.0–1.5 V

80 W

SLAC8
SLAEL

Xeon E5335

2.0 GHz

2 × 4 MB

1333 MHz

1.0–1.5 V

80 W

SLAC7
SLAEK

Xeon E5345

2.33 GHz

2 × 4 MB

1333 MHz

1.0–1.5 V

80 W

SLAC5
SLAEJ

Xeon X5355

2.67 GHz

2 × 4 MB

1333 MHz

1.0–1.5 V

120 W

SLAC4
SLAEG

Xeon X5365

3.0 GHz

2 × 4 MB

1333 MHz

1.0–1.5 V

150 W

SLAED

Quad Core, low voltage

Xeon L5310

SL9MT

1.6 GHz

2 × 4 MB

1066 MHz

1.0–1.5 V

50 W

SLACA
SLAEQ

Xeon L5320

SLA4Q

1.87 GHz

2 × 4 MB

1066 MHz

1.0–1.5 V

50 W

SLAC9
SLAEP

Xeon L5335

SLAEN

2.0 GHz

2 × 4 MB

1333 MHz

1.0–1.5 V

50 W